Keynote Speakers
Keynote title: 'Dilemmas in evaluating place making or back to basis: what is place making for?'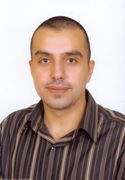 Dr. Husam AlWaer (B.Arch, Ph.D, AoU,BREEAM AP, SuBETool Founder)
Senior Lecturer in Sustainable Urban Design and Evaluation
University of Dundee, School of the Environment (Architecture+Planning)

Dr. AlWaer is a highly skilled academic with experience of quality research on interdisciplinary projects. He is a specialist in sustainable urban design and low carbon urbanisation with a demonstrable leadership qualities with impact in academia, practice and in community out-reach. Dr. AlWaer's research is internationally excellent, inter-disciplinary, evidence-based and aims to promote translational engagement between academic, technical and practice domains of the built environment. He has researched issues concerning the sustainability of urban design and assessment methodologies in the context of globalisation and has a track record of peer-reviewed publications/ books and reports. With experience in academic research, teaching, and consultancy, Dr. AlWaer has worked collaboratively with a range of public and private partners.

His main success has been in developing a body of new knowledge that is both relevant (within the universities, government and industry strategic areas) and internationally-valued for its new knowledge and insight. He has made innovative contributions to the discipline in terms of new conceptual frameworks, linking sustainability assessment to urban design and master planning. This has included the development of a new assessment framework for Sustainable Master Planning and Place making, known as the SuBETOOL framework.

Dr. AlWaer has contributed, as guest lecturer, to teaching programmes (undergraduate and post graduate levels) in over 20 countries at universities including (i.e. Cardiff, Newcastle, Manchester, Liverpool, Glasgow, Reading, Brighton, Turin Polytechnic, Naples Federico II, Reggio Calabria, La Rochelle, Malaya, Dubai, Damascus). He has fulfilled prestigious invitations from national and international organisations, firms and universities as a means for outreach and public engagement, transferring the lessons /knowledge learnt and applying it to new contexts.